My journey through learning to tailor took a bit of a break (and is continuing to take a bit of a break) as the mercury drops here in Southern California.
I have never - literally - seen it this cold here, and I have lived here all my life. Moreover, while it occasionally gets to freezing at night, I can't remember the last time we had a month where the 30s became the new nighttime normal temperatures.
This is not a problem for me, because 1) I like wool, 2) I like silk 3) I have the option to stay inside most of the time if it suits me.
My eight-year-old daughter, however, goes to a public school. I'm not sure about the schools where you live, but schools here are just buildings outside. No hallways. And the kids are expected to mill around outdoors unless they're actually in class. Normally, this is all good. When I am dropping my daughter off at school and it's 40 degrees? Not so good... at least not so good with her current, "summer all the time" wardrobe. (If you have one or two weeks of proper cold per year, and you are a growing child, a sweatshirt, a few pair of pants, and a rain jacket is all the weather gear you need. Remember the sundresses I made her a few months ago? Yeah, me too).
We had a bit of a discussion last week about her sartorial choices. She wanted to wear a very snug sweatshirt that she'd gotten for Christmas, I didn't really want her to wear that out of the house. She pointed out that her casual sweater was too chilly - even in the classroom - and the big puffy grey jacket was too warm in the classroom (the doors get opened often).
What's a mother to do? Well, this mother has a mother whose best friend lives not far from the Pendleton wool outlet, and had some mauve wool in stash for her daughter. But who makes a wool jacket for an 8yo?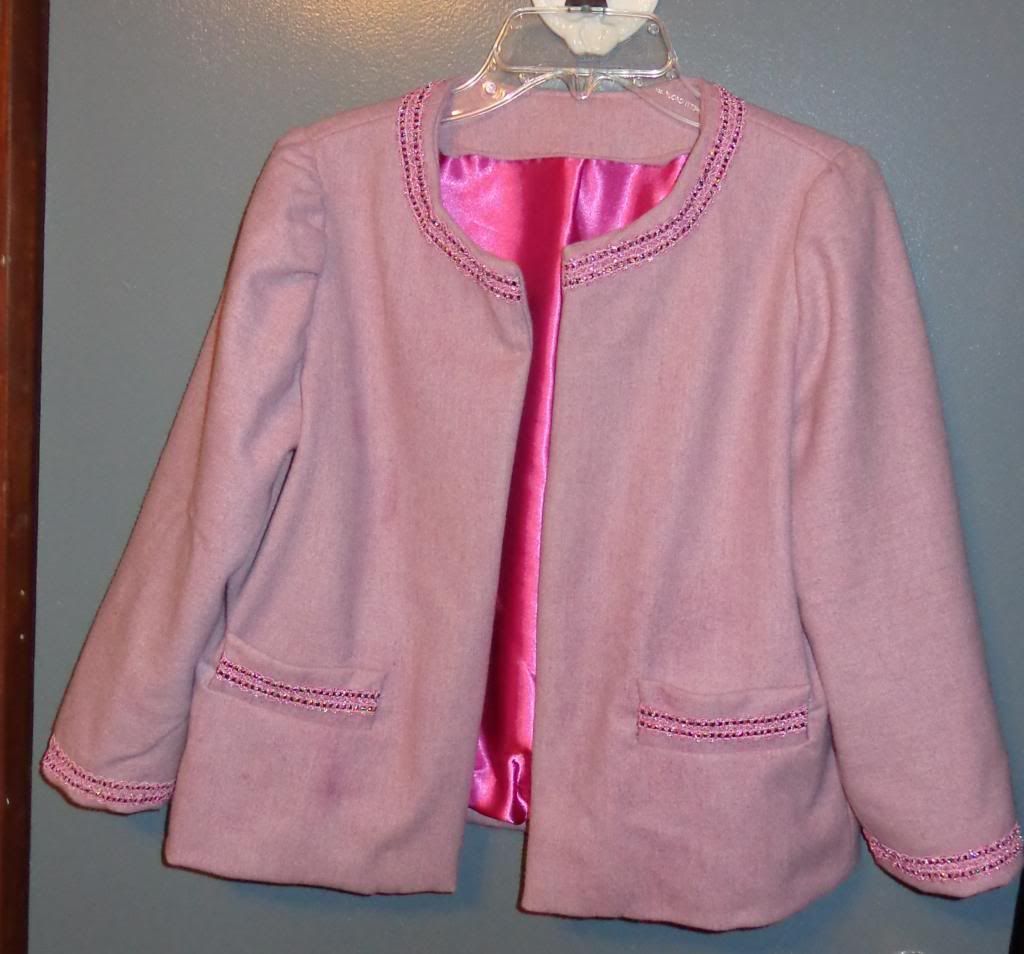 That would be me. With pink sparkly trim and a bright lining, to appeal to an 8yo's eyes (and match her bright pink wardrobe).
There was also an emergency trip to the store, to buy as many layering items as possible.
I don't mind the cold at all, I just wish it had had the decency to give me a six-month warning, so I could sew up a weather appropriate wardrobe for both of us without rushing.